The Most Traditional of Slots Games Can be Played Online – Three Reel Online Slots
Recommended 3-Reel Slot Casinos
* T&C's apply. Click on Claim Bonus for details.
If you're looking to try your hand at playing slots there are most definitely plenty to choose from. They come in a range of different styles, types and themes. Playing slots has a long history and been a popular game for several decades. The predecessor to the modern slot machine was developed in 1891 by Sittman and Pitt of Brooklyn, New York. It had five drums that held 50 card faces and was based on the card game poker. It was a very popular game and players paid a nickel and pulled a lever that made the drums spin. There was no direct payout but winning lines entitled players to a free beer, for example, or cigars or other drinks.
The prizes depended on the products that were being sold where the machine was located. A much simpler automatic mechanism was devised somewhere between 1887 and 1895 by Charles Fey, that only had three spinning reels that contained a total of five symbols. These symbols were diamonds, horseshoes, hearts, spades and the Liberty Bell. This last symbol was the one that gave the machine its name. The Liberty Bell 3-reel machine was a resounding success and a thriving mechanical gaming machine industry was spawned.
The device was banned in its founders state a few years later but was so popular that Fey couldn't keep up with demand. It was subsequently copied by many other manufacturers and by the early 1900s could be found in many different establishments such as cigar stores, saloons, bowling alleys, barbers and brothels. A fully electronic version of the machine was developed in 1963 by Bally. It was also the first slot machine with a bottomless hopper and automatic payout of up to as many as 500 coins. The first true video slot machine came along in 1976 and used a modified 19-inch Sony Triniton color receiver for the display.
All the slot machine functions used logic boards. These were trialed in the Las Vegas Hilton Hotel Hotel and were eventually approved by the Nevada State Gaming Commission. The next significant step was for the games to be offered to players online. And is where we find ourselves today. Being able to enjoy the thrill of playing three reel slot machines without every having to leave home.
What is a 3-reel online casino slot?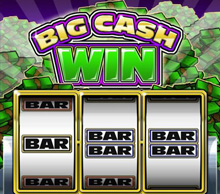 Slots are basically categorized by the number of reels they have. The reels are the vertical sections that roll when you pull the lever, if you're playing in a land-based casino. Or when you press a button if you're playing online. The fact that there are only 3 reels obviously limits the number of possible winning combinations but doesn't limit the amount of money you can win.
The game is based on old fashioned slot games that can still be found in pubs, clubs, arcades and casinos around the world. It's the simplest form of online slots and is easy to understand. This makes it a great introductory game for beginners. The games themselves are really pretty basic and lack the glitz and glamour of many of the later variations of the game.
What many players forget is that 3 reel slot machines have a reduced number of symbols and therefore are able to offer higher payouts when they appear in the right combinations in the payline. Something else that increases the chances of winning is that many 3 reel slot machines include multipliers and wild symbols and sometimes the wilds can act as both.
Are there any special features of 3-reel classic slots?
There's no doubt there are some very interesting slots to play nowadays but don't be thinking that 3-reel slots have no special features. We're not denying there are some very interesting features that have been added into 5 and 7-reel slots, such as bonus game rounds, free spins, scatter and wild icons and a whole lot more. Not all 3-reel slots have a wealth of interesting features. In fact some of them could be considered as rather boring. But there are plenty that have the added features to make gameplay far more exciting.
The best three wheel slots will include scatters, wild symbols and even a few bonus game rounds. Perhaps we should just explain what these particular features are for the beginners out there.
Wild symbols – these are symbols that can be substituted for any of the symbols in a slot game. Say, for example, you haven't got enough matching symbols in a payline. A wild symbol can be used to fill in the gaps. Wild symbols are limited throughout the game and hold no value of their own.
Scatter symbols – these are used to activate a bonus round, which can vary from mini-games, to the Wheel of Fortune to free spins. Generally, you'll need to get 3 scatter symbols in one spin to be eligible for a bonus round. And you often find that the bonus rounds have higher payouts than the slot itself.
Why 3-reel classic slots are so popular
We were expecting 3-reel slots to be pretty low down the list of popular slots games to play. They happen to be the most popular, or so it seems if the reports are anything to go by. We were
expecting video slots with their jaw-dropping graphics and bigger jackpots to win the popularity stakes but it seems that unless the theme is movie-based, three reel old school slot machines win the day. There aren't too many differences between the different slots variants, when it comes down to playing the games. But the biggest difference is that 3-reel slots play much faster, because there are fewer animations and reels.
Classic slots also tend to have just one payline, whereas you can expect at least 15 or 20 in the other games. It seems that players are enjoying the less is more type of game and possibly the fact that the games are so easy to play is another deciding factor. If you find yourself playing three reel slot machines online it might feel like you're not getting the payouts you've been expecting. This is true, but the payouts you do receive will be bigger than other reeled games. It might take longer to get to the promised percentage over time, but the RNG will get you there eventually.
Are three reel traditional slots safe to play?
The simple answer is yes they are. Three wheel slots free and for real money make use of Random Number Generators to ensure the games are truly random and completely fair. The worry over whether online games are fixed seems to bother a number of players. So let's set the record straight. Because of RNG technology the outcome of the games can't be predicted in any way. The numbers are thrown out in random patters every time.
The software doesn't remember the last combinations that were thrown out either. Or whether you've been winning or losing the last few games you've played. The Random Number Generators are also independently tested so you can feel confident everything is above board. Before you start playing three-reel slots online, make sure you check whether the casino is licensed and regulated. As this is the best way to ensure the games are fair and the operator is bona fide. And look out for eCOGRA certification for added peace of mind.
Playing three reel slots online isn't going out of fashion anytime soon
The very first three-reel slots machines are still a very popular part of land-based casinos today. Fondly called one-armed bandits they can be found at most casinos around the world. They have also become a big part of the online slots scene and it doesn't look like they're losing their appeal. Yes they're more likely to appeal to lovers of more classical designs, but the fact that they are so easy to play means they're perfect for beginners. Simplistic is the order of the day for those who play real money and free three wheel slots online. This makes for a clean and fast-paced playing experience and plenty of opportunities to earn extra cash quickly.
However, we should point out that for some this type of slots game can very rapidly become boring. It is a very basic type of game and if you're more used to playing 5-reel slots, for example, boredom may well set in before you get the change to win a significant amount of money. If you're gambling on a tight budget, however, this type of game is perfect because you often find that betting options are limited. There are plenty of slots casinos offering three-reel games galore. We'll of course be featuring a number of them here. We'll also make sure you're kept up to date with the latest offers and the best new releases. New 3-reel slots are still being launched so the fun and excitement is set to continue for many years to come.