Originally a Manufacturer and Distributor of Slot Machines – International Game Technology (IGT)
International Game Technology, or IGT as it's also known, is an American gaming technology company that has its base of operations in Las Vegas, Nevada. Currently, one of the largest manufacturers of slot machines in the world, it's estimated that approximately half of the slots in the US are made by IGT. It may have started with its sites set on land-based casinos but it wasn't long before it decided there was an online market it needs to claim a piece of.
In 2005, it branched out into the online gambling world, and thanks to the experience it already had it wasn't long before it had gained a foothold online too. Many of the top rated casino sites now use IGT casino games, but it is best know for the selection of slots it has in its portfolio. Alongside the slots, IGT also provides some of the most popular table games, card games and a fully integrated casino management system. Live dealer games are a also an option and there are some very interesting bespoke variants of the most popular games.
Best IGT Casino Sites
* T&C's apply. Click on Get the Best Bonus for details.
IGT supports instant play games rather than downloads
Many of today's popular software developers have decided to give operators a number of options, when it comes to platforms for the games. IGT is a little different in that all its games can be played in instant play mode. The games can all be accessed via a browser and make use of HTML 5 responsive coding. There is no need for any download which means the games take up no storage space at all, which is especially useful for those who prefer to play using a mobile device. The games aren't limited to one particular OS either and work equally well whether playing using a desktop, laptop, smartphone or tablet.
And if you want to play more than one game at a time there's also a selection of mini games to play. Game quality is one feature of IGT games that make them stand out from many of the others. The fact that a list of IGT slots machines will include many of the most popular slots is testament to that. And many of the most respected online casinos provide IGT games for their players.
IGT casinos – are there very many?
You'll be pleased to know that actually there are. Some of the big guns in the world of online casinos have decided to team up with IGT to provide players with the ultimate gaming experience. 888 Casino, Bet365 and Mr Green are just a few examples and there are plenty more where they came from. There are plenty of benefits to enjoying IGT gaming but one of the biggest is that you can enjoy the games anywhere and use any device because the software functions perfectly all thanks to the best technology IGT uses. You may well find that many of the casinos offering IGT games have also chosen to provide games from other developers.
This is not, in fact, all that unusual, as it allows the casinos to cater to the needs and preferences of a broader spectrum of customers. There are very few standalone casinos nowadays. Even casinos owned and operated by a particular developer will also add in a few titles from its competitors. It's not too difficult to decide whether a particular casino is offering this developers games, as you're very likely to find the most popular titles included in the menu. Cleopatra, Da Vinci Diamonds, Monopoly, Transformers, Star Trek and various Megajackpot games.
What games does IGT offer?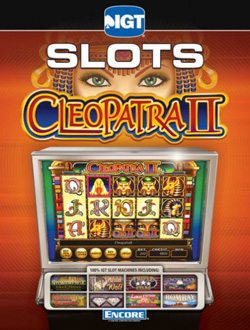 IGT provides players of both land-based and online casinos with a wide variety of casino games. It's considered by many to be the largest supplier of slots in the world and has managed to work out deals with some of the major brands and franchises, for example, Monopoly and Star Trek. Some of the biggest Hollywood names have also become associated with IGT to bring players a number of movie-based slots such as Ghostbusters, Godzilla, The Dark Knight, Grease, Indiana Jones and Sex in the City. Popular television series have also developed links with IGT to enable the release of TV-based slots such as American Idol, Family Guy, Judge Judy and X-Factor.
While know best for the wide range of IGT slots and IGT slot machines, other casino games haven't been forgotten. All the thrill and excitement you might find on the floor of a real casino can be enjoyed through IGT's craps, blackjack and roulette tables. Gaming software has been developed for these classic casino games and also for a number of variants. These include multi-hand blackjack Caribbean stud poker, European roulette, Texas Hold'em, baccarat and French roulette.
Video poker is another area that IGT has conquered and it's considered to be the leasing supplier of video poker machines in the world. And let's not forget that IGT also has a social media presence with Double Down, the largest virtual casino.
IGT slots – one of the biggest portfolios in the world today
IGT initially gained its reputation in the business of providing slots games for land-based casinos and many of the top IGT slots performers easily transferred to the online stage. Cleopatra is one example of an IGT slot machine that has already achieve worldwide acclaim in land-based casinos around the world. It's successor Cleopatra II quickly gained success and became one of the company's hottest online slots, with its offer of a free spins bonus with multipliers of up to 50 times.
Da Vinci's Diamonds is another exclusive IGT slot that's instantly recognised. It was the first slot game to use tumbling reels (a feature of slot games that allows you to win again and again with one single play). Branded slots are another area where IGT has excelled. Teaming up with popular TV shows, movies, board games and including historical figures as part of the games has brought thrills and excitement to a wider audience.
One of the biggest titles is Wheel of Fortune, based on the popular TV game show and now available in several different versions. When it comes to jackpot slots IGT doesn't have as many to offer as other providers but still has 4 to choose from. These are Cleopatra, Cluedo, Monopoly and Siberian Storm. Progressive jackpots feature in these games and can be won if 5 mega jackpot symbols appear along the middle payline. But to win the maximum jackpot prize of more than $1 million you need to play the maximum bet and select all paylines. There are plenty of free IGT slots no download required, as all are available using instant play.
Does IGT offer anything other than slots?
IGT is undoubtedly better know for its slots but there are a number of other products that are attracting attention at the moment. Since 1980, it has been collaborating with governments to help them grow responsible lottery businesses, and this covers retail solutions and services for lottery services on the shop floor. Through to keeping customers informed and providing them with the best lottery experience possible. Sports betting is another area of expertise for IGT with products including ES solution for retail and lottery hosts, Player Account Management, and Gate (Portal) services. For casino players there are various table games such as blackjack and roulette.
As well as more unusual casino games such as baccarat and craps. Or why not try your hand at bingo, poker or one of the many instant win games to play. Visit the IGT main website and you'll be able to try a wide selection of free IGT slots no download.
For those of you looking to play live dealer games with the help of IGT, you'll be pleased to learn this is something that is now being offered by IGT. It's a relatively new development, but one we're pretty sure is going to prove to be very popular. At present, however, it's only possible to play live roulette or baccarat. It's almost certain that new games will be added, once IGT has realised how popular this section of the market has become.
Take IGT games with you on the move
There's no need to worry about an IGT slots download as all the games are available using instant play. Simply type the casino address into your browser, whether your desktop or mobile, and you can play straight away. IGT has kept up with everyone else in terms of mobile play and players can access all the action using a smartphone or tablet. The mobile interface is very user-friendly and the graphics bold and sleek.
We've found a number of comments online and at other review sites that say some of the features are a tad old-fashioned, but we didn't find this with any of the games we played. The HTML5 games work well regardless of which device you're using. Whether it's your desktop, or Android, Windows or Apple mobile device.
More information about IGT
IGT was founded in 1975 by a guy called William S Redd. Back then it was called A-1 Supply, and then changed its name to Sircoma in 1978. it wasn't until 1981 that it became International Game Technology, when the company went public. The decision to go public was brought about by the success of its video poker machine and also served to propel it into other gaming arenas. Over the years it acquired a number of different companies, further expanding it's area of expertise.
For example, in 1984, it acquired Electronic Data Technologies, allowing it to become one of the first to use a computerized player tracking system and to also introduce frequent player rewards programs. In 2005, it acquired WagerWorks for its online gaming technology. And this was also the year that it unveiled its first multi-level progressive jackpot product MegaJackpots.
All the time these changes and acquisitions were taking place the company opened offices all over the world, including Macau, Mexico, Russia and the UK. The latest change in the company occurred in 2014, when Italian gaming equipment company, Gtech, acquired IGT for the princely sum of $6.4 billion. Over the years, IGT has received some very prestigious awards including:
Casino Equipment Supplier at the 10th Annual International Gaming Awards 2017
Best User Experience in Mobile at 9th Annual International Gaming Awards 2016
Casino Product of the Year and Land-Based Gaming Innovation of the Year at the 2015 Global Gaming Awards
Why choose IGT gaming over any others?
If you enjoy playing slots then you should be looking for an IGT powered casino as it'll have heaps of choice whatever your taste. From traditional land-based type games such as Double Diamond to more themed games and licensed titles such as Bridesmaids, Family Guy and Star Trek there's something for everyone. One important advantage is that most of it's offline games have been brought to the online marketplace, many of which are associated with major brands.
If you fancy something different or something new you've still got lots of choice and new titles are added on a regular basis. A lot of the games have been around for a while so there are some brilliant game guides. And if you fancy your chances at winning a million there's the Megajackpot series. All the games are compatible with a wide range of devices including Mac, iPhone and iPad, Windows and Android phones or tablets.
Play the games for real or just have some fun playing for free, it doesn't really matter. As well as slots you can play a variety of table games including blackjack, roulette, baccarat and craps, all of which are very dependable and easy to play. You even get a few live dealer games thrown into the mix, to complete the IGT online casino package. Many of the top rated slots casinos feature IGT games on the list and there are also a good selection of online casinos that feature its games too.